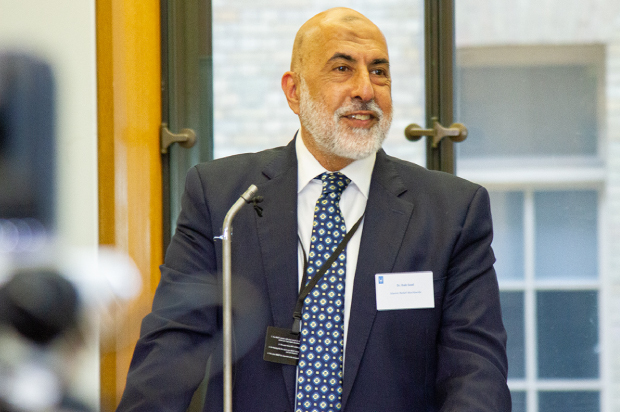 MESSAGE FROM THE CHAIR OF TRUSTEES
Assalamu alaykum
Peace be with you
My third year chairing the Board of Trustees of Islamic Relief Worldwide has been both challenging and fulfilling.
I am extremely proud of what has been achieved by our hard-working staff and volunteers, the resourceful and resilient communities we serve, and those who continue to give so generously to support the cause.
Our global income reached a record £234 million in 2022. This represents a 28 per cent increase on the previous year, and a doubling of our income just 10 years ago.
More importantly, we were able to channel this record income into touching more lives than ever before, reaching an incredible 17.3 million people worldwide in 2022.
We could not have achieved this unprecedented reach without the extraordinary philanthropy of our donors. I am thankful for their generous and selfless giving against a backdrop of global economic stagnation, rising inflation and escalating cost-of-living pressures. Their continuing support speaks volumes for their passion and compassion, and for the trust they place in us to fulfil our mission.
This Annual Report brings to life the wide-ranging work that Islamic Relief does across Africa, Asia, the Middle East and Eastern Europe, to help those affected by humanitarian crises and to lift communities out of poverty. It is work that requires initiative, innovation and real determination at a time when global hunger is on the increase and climate- related disasters are becoming more frequent and severe.
In the Horn of Africa, for example, five successive failed rainy seasons have resulted in the worst drought in decades. This has left around 14 million people in Somalia, Ethiopia and Kenya – the three countries worst affected – unsure where their next meal is coming from and in need of humanitarian aid. The war in Ukraine has made the crisis worse, pushing up the price of fuel and staple foods.
Our £3.8 million ($5.2 million) Global Hunger Prevention and Response Programme helped communities in eight African countries to tackle hunger in a multifaceted and integrated way. That meant not only providing food, but also supporting health and nutrition programmes, as well as restoring water sources and investing in livestock health and drought-resistant seeds. We aim to stand by families in the long term, helping them to establish or rebuild sustainable livelihoods.
In a changing world, the Islamic Relief family is changing also. In countries in North America and western Europe where our primary focus has historically been fundraising and raising awareness, our member offices now have significant domestic aid programs to help those in need on their doorsteps. In the southern hemisphere, where is aid delivery has been our historic focus, an increasing number of our country offices are now also fundraising in their own communities to reinforce their work.
It is my privilege to chair a diverse Board of Trustees that is elected by the global membership of the Islamic Relief family in a federated structure. Our nine trustees – five men and four women – come from seven countries across five continents.
In 2023 I am looking forward to the addition of ours first publicly recruited independent board members, as part of a commitment to further strengthen our Diversity, transparency and wider accountability. We are also launching an exciting new long-term strategy for the organization that sets out to strengthen not only our humanitarian and development work but also our campaigns for change and the coordination and Collaboration we are building across our federation. With your continued support, Islamic Relief will continue to do all we can to build a future free from poverty and suffering.